Auckland Walking and Cycling Counts
Our Walking and Cycling Team asked simply, "Can we just get a map of Auckland's walking and cycling counts. The data is too important for our projects to have to hunt down and pore over disparate tables?"
"Yes, you can," said the Data Science Team, and thus Auckland Walking and Cycling Counts was born.
We built a data pipeline to collect walking counts from 2012 to present from Heart of the City and cycling counts from 2010 to present from Auckland Transport. We then mapped the counters and resampled the counts at various frequencies (weekly, monthly, etc.) to produce interactive maps and time series charts to quickly spot trends at any subset of counter sites.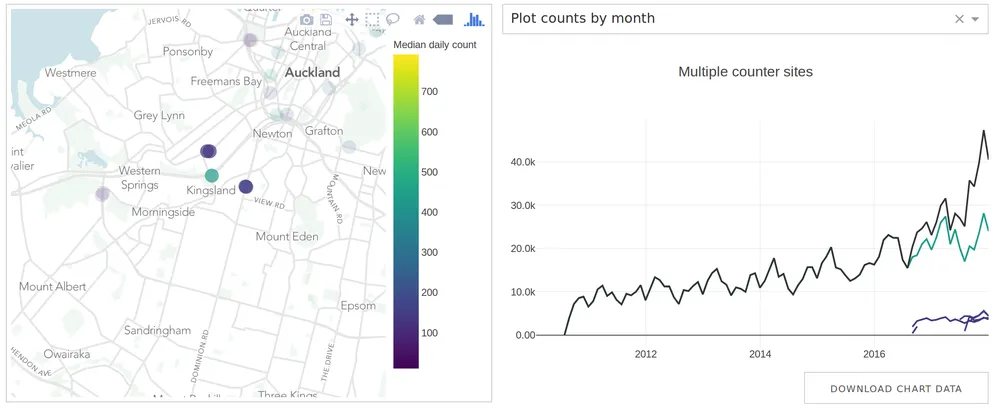 We put this all onto a single public-facing website, and now the Walking and Cycling Team is pleased.
"We use the cycle counter charts to track long term trends and to interrogate short term changes that might be explained by infrastructure improvements or unexpected events. Having this information at our fingertips helps us provide the best advice to our clients." ~Kent Lundberg, Principal Urban Designer at MRCagney
As a bonus, Auckland Walking and Cycling Counts also informs the inquisitive public.
Author: Alex Raichev
Date: 2019-01-30
Comment