Whangarei Housing Assessment
In 2021, Whangarei District Council (WDC) commissioned us to help them model and understand their housing capacity in order to meet their Housing Assessment requirements of New Zealand's National Policy Statement on Urban Development (NPS-UD). The NPS-UD aims to ensure that New Zealand's urban environments meet the changing needs of their diverse communities and requires, among other things, that local councils periodically assess their housing supply and demand to inform planning decisions.
To this end and in collaboration with WDC, we created a web application to analyse and visualise Whangarei's housing capacity.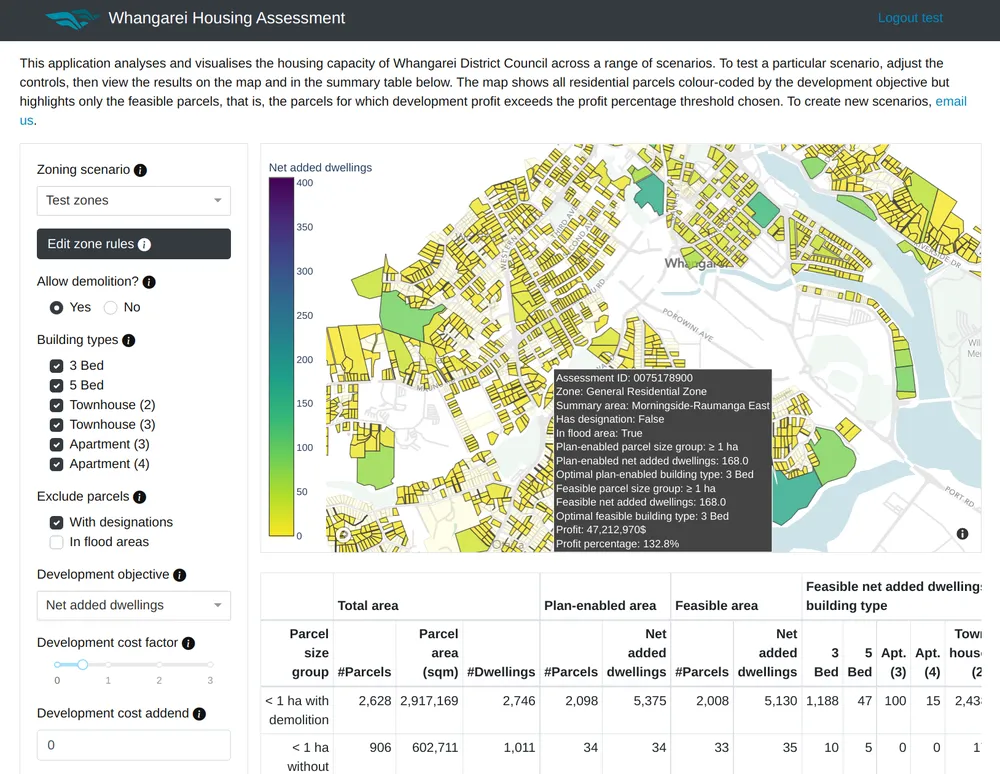 Using the app, WDC can explore a range of planning scenarios. They can select from predefined zoning extents, edit zone rules, toggle building types, slide development costs and sale prices, and see how these changes affect the feasibility of housing development in Whangarei. They can explore these results at a parcel level, both on a map and in a summary table.
"From the start of the project we were hesitant to change from an Excel-based tool to a web-based dashboard tool. However, we trusted MRCagney's expertise and the web-based dashboard has proved to be much better than the Excel based tool. The new tool is user friendly, fast, and easy to share. MRCagney was flexible throughout the process of developing the tool and was able to add in new features as requested. They were also able to add value in unexpected places and have been extremely helpful in implementing the tool and helping to train staff where needed." ~Robert Burgoyne, Manager - District Plan at Whangarei District Council
Author: Alex Raichev
Date: 2021-08-03
Comment